27 Jan

New Year — New Paint Trends: Benjamin Moore and Sherwin Williams 2023 Paint Colors of the Year

Happy 2023, Garrett Painting customers! As we venture into the new year, we're starting to see exciting trends, designs and colors that will inspire our spaces for years to come. Ready for something new? A fresh coat of paint can provide the perfect change of scenery for your home.

As go-tos for all things paint trends, Benjamin Moore and Sherwin Williams have announced their 2023 colors of the year. Here at Garrett Painting, we are devoted to providing our customers with high-quality paint jobs. We're excited to bring these brilliant colors into the homes of our mid-Missouri customers. Schedule an appointment to refresh your space and start out the new year in style.

Benjamin Moore Color of the Year — Raspberry Blush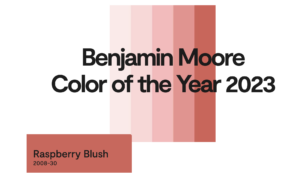 Meet Raspberry Blush 2008-30. This optimistic color is a vivacious shade of coral with hints of pink. There's no doubting the joy and excitement this hue will bring to your home. With a light reflective value (LRV) of 21.12, this shade won't lighten your home, but it most definitely will bring brightness.
For a fun flair, Benjamin Moore suggests using Raspberry Blush in a dining room, paired with Onyx furnishings. For a monochromatic effect, they recommend Raspberry Blush living room walls, ceilings, trim or wainscoting. If you're in the mood for a fun pop of color, try Raspberry Blush in a powder room. Don't feel ready to paint an entire wall this bright shade? Benjamin Moore also recommends painting an archway or accent wall in Raspberry Blush to give you the perfect punch of personality.
For a neutral pairing with Raspberry Blush, Benjamin Moore suggests using Onyx 2133-10, Gray Owl OC-52, White Heron OC-57 and Etiquette AF-50.
2023 is the year for stepping out of your comfort zone and trying something new. Ready to invite color back into your home? Raspberry Blush is jam-packed with charisma, and it will sure give you an exciting jumpstart into the new year.
Benjamin Moore Color Trends 2023
Though Raspberry Blush reigns as the Color of the Year, Benjamin Moore has selected seven more color trends to offer inspiration to your home. The eight-color 2023 palette was chosen with creativity, confidence and inspiration in mind. These colors — Raspberry Blush, Conch Shell, Cinnamon, Wenge, Savannah Green, New Age, Starry Night Blue and North Sea Green —push beyond tradition and bring a new perspective into your most cherished spaces.
Wenge AF-180 is a deep chocolate color with undertones of black, brown and violet. This hue is the perfect combination of both comfort and drama. It is warm, engaging and ideal for bringing balance to spaces that already have a lot of color. Benjamin Moore recommends using Wenge on exteriors to update the traditional taupe look. For a dark, cozy space, try Wenge for the walls and ceilings. Wenge's LRV is 2.65.
Cinnamon 2174-20 is a rich brown with hints of orange. This color gives you a balance between neutral and saturated. Benjamin Moore recommends using this welcoming hue in entertaining hubs such as living rooms, kitchens and guest rooms. For an extra warm, comforting feel, use Cinnamon on the walls, trim and ceilings. When paired with White Heron walls, a Cinnamon trim can provide a fun, eclectic look. Cinnamon's LRV is 11.2.
Savannah Green 2150-30 is a rich ochre with yellow and green undertones. This statement-of-a-hue will bring drama and fun to your spaces.
Savannah Green pairs with neutrals and saturated tones. Have a creative space that could use some more whimsy? Benjamin Moore suggests using this color as inspiration for art studios, home offices and dining rooms. For intense contrast, try Savannah Green on walls with accents of Conch Shell. Savannah Green's LRV is 24.67.
North Sea Green 2053-30 is a saturated shade that blends calm gray-blue hues with soothing blue-green hues. With a delicate gray undertone, this teal creates a rich, moody feel. For an update to the green bathroom, Benjamin Moore recommends creating bathroom spa vibes with North Sea Green. Looking for a cozy, tranquil space? North Sea Green is perfect for bedrooms and dining rooms. North Sea Green's LRV is 13.23.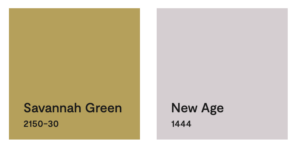 Starry Night Blue 2067-20 is a radiant dark indigo with a hint of violet in its undertone. Perfect for dreamers, this captivating hue brings dimension into any space. With neutral kitchen walls, Benjamin Moore suggests using Starry Night Blue on kitchen cabinets to bring a saturated take on the deep navy-blue cabinet. When paired with velvet blue furnishings, Starry Night Blue can bring a sophisticated, exquisite look to living rooms. Starry Night Blue's LRC is 5.52.
Conch Shell 052 is a soft, sepia-like pink tone that captures the dusty hues of a hazy sunset. When paired with the other 2023 Color Tends of the year, Conch Shell appears neutral. Yet on its own, this comforting hue can bring a bold vibe to your home. Benjamin Moore recommends Conch Shell for transitional spaces, such as entryways and hallways. This pleasing color works nicely in powder rooms and living rooms to create a natural beige style with a twist. Conch Shell's LRV is 54.99.
New Age 1444 is a soft, ethereal light purple with gray undertones. The softest of the 2023 Color Trends, New Age can appear both gray or lavender, depending on the lighting and other touches of color in your space. For a dreamy, vintage feel, Benjamin Moore suggests New Age for bedrooms, reading rooms and other common sitting areas. To create a soothing primary bedroom or bathroom, try New Age wainscoting and walls. New Age's LRV is 63.28.
Sherwin Williams Color of the Year— Redend Point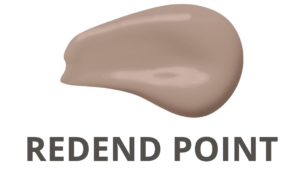 Meet Redend Point 9081. This minimal yet cozy color creates a calming backdrop for your favorite living spaces. Redend Point is versatile and inviting — perfect elements to keep in mind while choosing colors for a home.
The 2023 Color of the Year comes in both interior and exterior paint, and Sherwin Williams recommends coordinating it with Polite White 6056, Kestrel White 7516 and Canyon Clay 6054.
In 2023, browns, warmer whites and beiges are trending. Redend Point is a nourishing hue that goes a step beyond neutral. Since it is so versatile, it can be used anywhere, from kitchens to bedrooms to offices to bathrooms. Home blogger, Hana's Happy Home, used Redend Point to transform her entryway with an accent wall. 
Sherwin Williams Interior and Exterior Paint 2023 Recommendations
Whether you're looking for a classic or a bold style, Sherwin Williams has paint pairing suggestions to help you create a look that is uniquely your own.
For exterior painting, try pairing Sensible Hue 6198, Dress Blues 9176 and Extra White 7006 for a traditional vibe. Try Evening Shadow 7662 and Foggy Day 6235 for a moody gray color scheme. Want a bit more color? Consider pairing San Antonio Sage 7731, Pier 7545 and Red Barn 7591.
Exterior accents bring fun and excitement to your home. Sherwin Williams suggests Rapture Blue 6773 and King's Canyon 3026 for bringing distinct pops of color that define doors, windows or shutters.
Are you interested in talking about these paint trends? Do you have a design vision for your home? Set up a free design consultation with us, and we will help your paint vision come to fruition.
The Garrett Painting Promise
What does it mean to work with a professional painting company?
We will schedule your estimate appointment in a timely manner, at a time convenient for you.
We will also supply your estimate in a timely manner, with a fair price and a detailed, clear estimate (no surprises).
We will communicate clearly and regularly.
Our team will show up on time and treat your home and family wth respect.
We will compete your job with accuracy and efficiency, so you can concentrate on more important things in your busy life.
Our crew prides itself on attention to detail and cleanliness, plus being courteous and pleasant to work with.
We use the best products and stand behind our work. We do the job right the first time.
For over 20 years, Garrett Painting has been providing quality services to our mid-Missouri customers. We will do everything we can to ensure that your painting project runs smoothly and professionally. We will treat your home with respect while keeping you informed every step of the way.
Shane Garrett founded Garrett Painting in the summer of 2000. Since then, Shane has grown his company based upon three basic principles:
Do what you say you will do.
Treat clients and employees fairly.
Value quality over quantity.
Shane knew early on that great customer service and word-of-mouth advertising are the keys to running successful business. It wasn't long before Garrett Painting earned a reputation for excellence. Today, Garrett Painting is proud to count many of their first customers as continued customers. We know that when we do a job well, our customers become our best supporters and that their home is our calling card. With a team of 15 to 20 employees, Shane leads the crew of painters and customer service professionals, each of whom are trained and held to the highest standards.
Our expert crew of painters and customer service professionals specialize in exterior painting, interior painting, cabinet re-finishing, commercial painting and floor coating. Our painting services include exterior staining, power washing and color consultation.
At Garrett Painting, we live by four company values: Integrity, reliability, quality and experience.
Integrity: We value honesty in every aspect of our business and expect it from each member of our team, and we believe good communication builds trust — the foundation of a solid relationship. You can expect integrity in each conversation and transaction with Garrett Painting.
Reliability: Our number one priority is to get your project done in the time frame you desire with minimal distruption to your personal or work environment. Garrett Painting will arrive on-time and ready to get to work.
Quality: We believe in quality over quantity. Our trained professionals offer high-level attention to detail and cleanliness, while being courteous and pleasant to work with. We use the best products and stand behind our work. We do the job right the first time.
Experience: With more than 20 years in business since our founding in 2000, you can trust that we will handle your project, big or small, with expertise, professionalism and unmatched
care. Because your home is our workspace, we carefully control the work environment to respect you and your property.
Along with these values, we pair our high-quality service with high-quality paints, such as those from Benjamin Moore and Sherwin Williams. High-quality paints have more prime pigments, which provide an easier application, have a greater durability and show better color retention. High-end paint allows for a long-lasting paint job, especially in high-traffic areas like entryways, kitchens and bathrooms.
With its increased durability, quality paint results in less peeling, cracking, scuffing, fingerprints, fading and chalking.
Quality paint not only provides beautiful color to your spaces, but it also protects against mildew and spoilage. Lower-quality paints do not contain as many binders (resins) which serve as a protectant.
Interested in a home remodel? Shane Garrett founded Garrett Remodling as an extension to Garrett Painting. Customers can expect the same quality, craftmanship and value for home remodeling that they have grown to trust from Garrett Painting. Our expert crew of remodelers and customer service professionals at Garrett Remodleing specialize in premium exterior and interior home remodeling. We proudly provide residential remodeling services to mid-Missouri, including Columbia, Jefferson City, Mexico, Lake Ozark and more.
Our customer service professionals make the entire painting process friendly and efficient from the intitial phone call or website contact to the final walk-through.
While investing in a place as cherished as your home, you want someone you can trust to get the job done — and get it done right. Contact us today to set up a consultation or receive an estimate. We look forward to helping you achieve your painting visions for the year 2023!