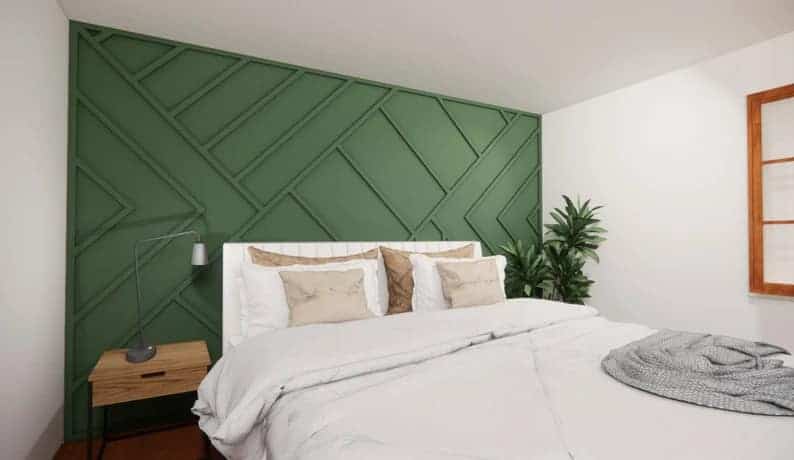 01 Feb

Accent Wall Design Trends 2023

What are accent walls?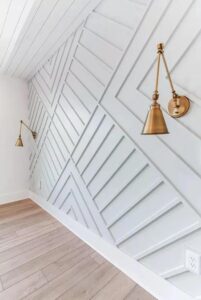 Accent walls are interior walls with designs that differ in color, texture, pattern or material from the other walls around it. The purpose of these walls is to draw visual attention, and they often serve as the focal point in a room. Accent walls can be used in any room in your home, such as living rooms, kitchens, bedrooms, dining rooms, hallways, bathrooms and home offices. 
There are many types of accent walls, both minimal and maximal, that can transform your space. The painted accent wall is the most common type of accent wall in a home. While designing a painted accent wall, be sure to choose a color that complements the other painted walls in the room as well as your home décor and furniture.  
The material accent wall uses materials such as brick, tile or shiplap to draw visual attention. This creates texture and unique visual interest. Depending on your style, you can choose subtle, more neutral materials, or go for bold colors and patterns.   
Interested in wallpaper? The patterned accent wall is a great way to highlight a wall in your space. Play around with bold wallpaper choices that will add some fun and color to your space. Patterned accent walls are trending for small spaces such as laundry rooms, powder rooms and walk-in closets.  
If you're looking to add some farmhouse charm to your home, try a wood panel accent wall. This natural look will add richness and depth to your space, and it is perfect for kitchens, family rooms and bedrooms.  
Accent Wall Design Trends 2023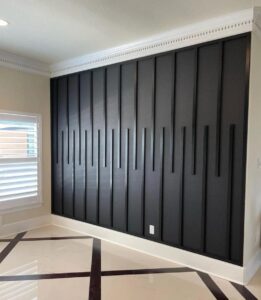 Bold entryway accent walls: Looking for a bold statement? Try adding colorful wallpaper to entryways, staircases, hallways and other transitional spaces.  
Vintage floral bedroom walls: Add vintage charm to your bedroom with a subtle floral wallpaper. Simple green patterns provide a natural yet calming feel to your space.  
Rustic statement walls: Would you like to add warmth to your room? Play around with textures and materials from woods to tiles to create an industrial-style space. 
The Garrett Painting and Remodeling Promise 
Building upon his success with Garrett Painting, Shane Garrett founded Garrett Remodeling to provide quality home remodeling services to the mid-Missouri area, including Columbia, Jefferson City, Mexico, Fulton and more. We believe providing superior quality remodeling services for homes and businesses depends upon three core tenets: experience, communication and integrity. 
Looking for the best partner for home remodeling near you? We pride ourselves on meeting or exceeding our customers' satisfaction every time. Experience the Garrett Remodeling difference today! 
Our team of remodeling, construction and design professionals has more than 20 years of experience in transforming existing kitchens, bathrooms, bedrooms, and entire homes into fresh, new, beautiful spaces. From day one, we start each project with clear communication to each customer, from timeline to budget. 
Doing what we say we will do is a basic, non-negotiable element of how we do business. Our success is built on repeat customers and word-of-mouth, and our goal is to be the best home remodeler in mid-Missouri. 
Shane operates his company based on three basic principles: Do what you say you will do, treat clients and employees fairly and value quality over quantity. 
We believe that great customer service and word-of-mouth advertising are the keys to running a successful business. We know that when we do a job well, our customers become our best supporters and that their home is our calling card. Our expert crew of remodelers and customer-service professionals are trained and held to the highest standards. 
Our customer-service professionals make the process friendly and efficient from the initial phone call or website contact to the final walk-through. 
Interior Remodeling 
Redesign the home of your dreams with a team you can trust. Are you ready for a fresh, new look for your home? Do you want to update a room to make it more modern? How about move a few walls and open up your space? Or brighten up that dingy bathroom? 
If you're looking to make a statement with your home, then look no further! Garrett Remodeling is mid-Missouri's best home remodeling construction company for helping you bring a new vision for your home to life. Your home should be your oasis – and our top-notch team is here to help. From kitchens and living rooms to bedrooms and bathrooms, we've got you covered. All backed by a team of experts you can trust. 
With Garrett Remodeling, you can count on professionalism in every detail. With over 20 years in the business, our experienced crew will treat your home and family with respect. Plus, we will focus on keeping you informed every step of the way. Satisfaction guaranteed. 
Our services cover every space of your home, including bathroom remodeling
kitchen remodeling, living room remodeling, bedroom remodeling and office remodeling.  
What does it mean to work with a professional remodeling company? 
We will schedule your estimate appointment in a timely manner and at a time convenient for you.

 

We will supply your estimate in a timely manner, with a fair price and a detailed, clear estimate (no surprises).

 

We will communicate clearly and regularly.

 
Our team will show up on time and treat your home, family and business with respect.

 

We will complete the job with accuracy and efficiency so you can concentrate on more important things in your busy life.

 

Our crew prides itself on attention to detail and cleanliness, plus being courteous and pleasant to work with.

 

We use the best products and stand behind our work. We do the job right the first time.

 
When you hire the Garrett Remodeling team, you can expect clear communication and a responsive customer experience. We will communicate clearly and regularly before, during and after your project. Our top customer service begins when you first contact us and extends to the completion of the job. Communication is key.  
Expect craftsmanship. We will utilize the best methods and premium products to complete your project. Our reputation is built on the highest levels of craftsmanship and materials. We want to become your remodeler today and for years to come.  
Expect trust and value. We will treat your home with respect and be clean and friendly. The Garrett Remodeling team adds value by completing each home remodeling project with high-quality results. Our goal is to add value to your home life and your real estate value.  
Serving all mid-Missouri, including Columbia, Jefferson City, Mexico, Fulton and more, Garrett Remodeling specializes in premium interior and exterior remodeling services, including additions and updates to kitchens, bedrooms and bathrooms. Our crew will make your vision a reality by using only the finest remodeling materials available. Our dedication to craftsmanship is unparalleled, and the results will bring you one step closer to your dream home.  
Ready to take the next step in remodeling your home? Reach out to us today for an estimate.