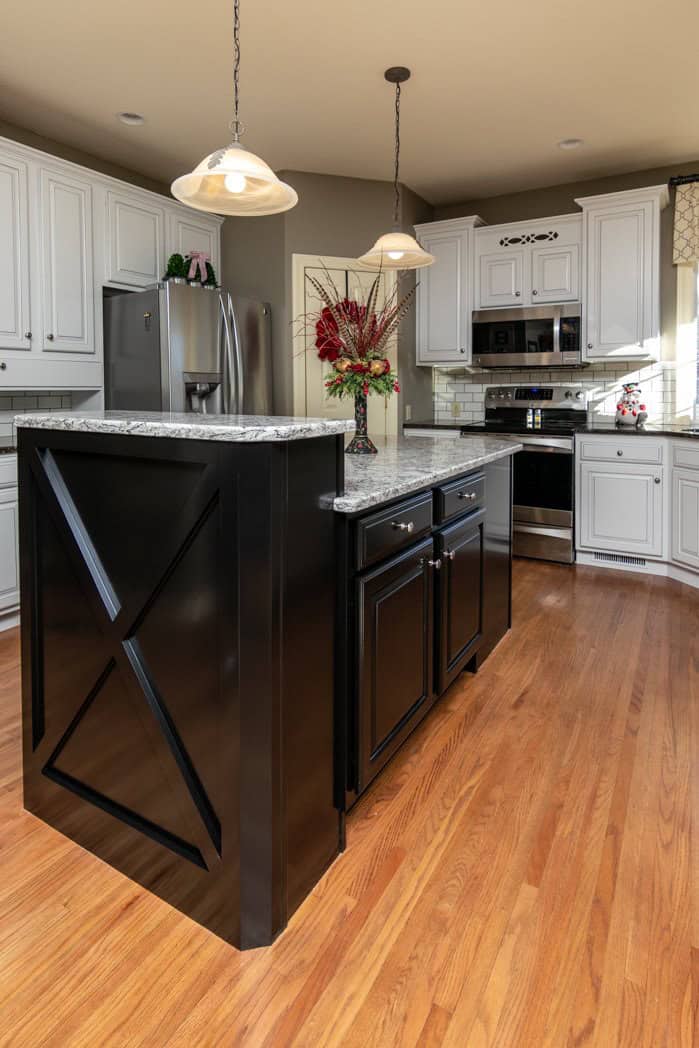 12 Mar

Kitchen Cabinet Refresh Brings New Look to Life

Cabinet refinishing is a quick and easy way to refresh the look of your kitchen. If you're happy with the configuration and condition of your high-quality wood cabinets and simply want to update the look, a change in the color scheme can transform the space in a matter of days. The results are stunning — just ask Todd and Debbie McCubbin of Columbia, Missouri. Garrett Painting refreshed the McCubbin kitchen in just a week, enlivening the look with a color palette of Vanilla Milkshake with black accents that carry over to the contrasting island.

"We're very happy with the work performed," says Todd McCubbin. "Shane and his crew have just done a fantastic job. We're thrilled with how things look."

Shane Garrett walks you through his crew's 10-step refinishing process in this video.

Learn why his crews use a solvent-based precatalyzed lacquer for a durable, smooth finish that dries fast. Watch his crews prepare the work area and protect the rest of the home before they apply multiple lacquer coats for a beautiful finish in a few days' time. When the job is done, they clean up the mess and leave you with a functional kitchen while they take cabinet doors and drawer faces to the shop for spraying. When the doors and drawer are dry, the crew will return to reinstall them and finish the transformation.

"The best part of working with Garrett Painting was the staff," Debbie says. "They're so friendly and professional, and they came in here and made the job easy."

Even if it's only for a few days, a paint crew in the kitchen can be disruptive, which is why Todd was so impressed with Garrett Painting's dependability. "They just do a fantastic job of communicating upfront," he says, "and then provide a really high value for their work."

Before you decide to refinish your cabinets, consider these caveats:
• Refinishing is not a cheap cure-all. Water damage, warping, splitting and other structural problems cannot be masked by repainting. Get a professional assessment of your cabinets' candidacy for refinishing.
• Cabinets with excessive grease build-up have their own problems — if the grease has soaked deep into the wood, it can affect the finished look of the cabinets. A professional can give you an honest assessment of your wood's condition and your options for refinishing.
• Be prepared to have limited use of your kitchen for a week or so. Clear off your counters and walls and empty your cabinets. Store what you don't need immediately in plastic tubs with lids; you can rig up a makeshift pantry for essentials. Use disposable or recyclable plates, napkins, cups and utensils. Find an alternative spot to park your refrigerator, microwave, coffee maker and toaster. Prepare some meals in advance to freeze and stock up on ready-to-eat snacks. Fire up the grill if the weather's good and plan to eat out as a treat once or twice.
• Consult with your refinishing professionals for advice on your options before you commit to the job. Discuss timelines, work areas, dust containment, ventilation and cleanup. Communicate often during the process to make sure everyone has the same expectations.

Learn more about cabinet refinishing at GarrettPainting.net.