01 Jun

Garrett Painting's Guide to Paint Finishes

High gloss and semi-gloss and satin and matte and flat and eggshell — oh my! Planning for a home painting project is full of tough decisions, especially when you're faced with dozens of finishes to choose from. So, how do you know which paint finish to choose?

Garrett Painting is here to lead you through the process of choosing paint finishes to make your painting project as smooth as possible. We've compiled our expert tips in this paint finish guide to make your decision making easier.

Why do paint finishes matter?


It is important to choose the right paint finish because…
With the right paint finish, you can hide imperfections on your walls and trim.
Durability is increased with glossy paints since they have a higher ration of an adhesive binder that solidifies into a solid surface.
Different finishes absorb and reflect light differently, which affects how you see the color.
Some paint finishes are more washable — a must for households with pets or children.
The paint finish you choose, and its light reflective value (LRV), affects how you will see the color. The glossiness or lack of glossiness matters when it comes to LRV. Flat and matte paints do not reflect much light, while glossy paints reflect a lot of light. Regardless of the paint finish, colors have an LRV. Interior colors have an LRV of 50% or higher. This helps you brighten up a room, especially if you have little or no sunlight.
Finishes wear differently, so you want to make sure you choose the right sheen to keep your home looking great for years to come. Since flat and matte paints do not reflect light, they are perfect for covering imperfections on your walls. A satin finish is more reflective, which will give your walls a small glow and a silky finish. Sheen and gloss levels are chosen on the requirements or durability. The higher a gloss level, the more durable and harder the finish. Harder finishes withstand wear and tear. Flat paints are more porous, meaning it more likely to trap dirt and therefore more difficult to clean.
How many paint finishes are there?
The most common paint finishes are gloss, semi-gloss, satin, eggshell, matte and flat, this number will vary depending on the brand you choose. For example, Sherwin-Williams has 10 paint finishes while Benjamin Moore has seven.
What to consider while choosing a finish
Consider the surface you are painting. Kitchen walls? Cabinets? Trim?
Consider the activity in the room. Is this a high-traffic space? How much durability do you need?
Think of the lighting. Does the room have lots of natural light? Artificial light? Artificial light reflects less than natural light.
What paint color are you using? If your paint color is darker, it will naturally be shinier due to the additional pigments. Darker paints show more imperfections.

Sherwin-Williams Paint finishes
Sherwin-Williams offers a wide variety of finishes. The sheen you choose should be based on wearability and the final look you are hoping to achieve. Sherwin-Williams offers flat, satin, semi-gloss, gloss, pearl, flat enamel, matte, eggshell, low-luster and medium-luster finishes.
Here's a breakdown of each finish:
Flat: This non-reflective finish helps hide surface blemishes and make walls look smooth. It can be cleaned easily with a damp sponge. Sherwin-Williams recommends this finish for adult bedrooms, dining rooms, formal living rooms and ceilings.
Satin: This finish has a slight gloss, which provides a richer look. Sherwin-Williams suggests using this finish in high-traffic areas such as hallways, woodwork, children's bedrooms and family rooms.
Semi-gloss: This durable, lustrous finish is perfect for locations that are cleaned frequently like kitchens, bathrooms, utility areas, closet doors and trim.
Gloss: As the most durable finish, Sherwin-Williams recommends gloss for areas you would like to highlight such as windows, doors, wood trim, cabinets, doors and furniture.
Eggshell: Great for walls, the Sherwin-Williams eggshell finish has a slight hint of shine and holds up well for cleaning.
Pearl: This finish has a subtle shimmer halfway between eggshell and semi-gloss.
Flat enamel: With a nonreflective appearance, this finish helps conceal imperfections and provides some washability.
Matte: This flat finish hides surface imperfections while providing an angular shine that makes walls washable and smooth.
Low-luster: This is a smooth, subtle sheen that is easy to clean and durable.
Medium-luster: As a higher-gloss finish, this is perfect for doors and trim.

Benjamin Moore Paint finishes
Benjamin Moore has the following paint finishes: flat, matte, eggshell, pearl, satin, semi-gloss and high gloss. Here's a breakdown of each finish:
Ready to start your painting project? Want to chat paint finishes? Contact us today!
The Garrett Painting Promise
What does it mean to work with a professional painting company?
We will schedule your estimate appointment in a timely manner, at a time convenient for you.
We will also supply your estimate in a timely manner, with a fair price and a detailed, clear estimate (no surprises).
We will communicate clearly and regularly.
Our team will show up on time and treat your home and family with respect.
We will complete your job with accuracy and efficiency, so you can concentrate on more important things in your busy life.
Our crew prides itself on attention to detail and cleanliness, plus being courteous and pleasant to work with.
We use the best products and stand behind our work. We do the job right the first time.
For over 20 years, Garrett Painting has been providing quality services to our mid-Missouri customers. We will do everything we can to ensure that your painting project runs smoothly and professionally. We will treat your home with respect while keeping you informed every step of the way.
Shane Garrett founded Garrett Painting in the summer of 2000. Since then, Shane has grown his company based upon three basic principles:
Do what you say you will do.
Treat clients and employees fairly.
Value quality over quantity.
Shane knew early on that great customer service and word-of-mouth advertising are the keys to running successful business. It wasn't long before Garrett Painting earned a reputation for excellence. Today, Garrett Painting is proud to count many of their first customers as continued customers. We know that when we do a job well, our customers become our best supporters and that their home is our calling card. With a team of 15 to 20 employees, Shane leads the crew of painters and customer service professionals, each of whom are trained and held to the highest standards.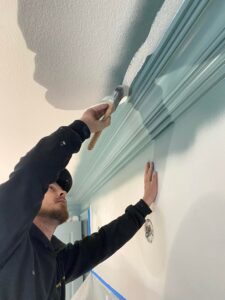 Garrett Painting's Expert Crew
Our expert crew of painters and customer service professionals specialize in exterior painting, interior painting, cabinet re-finishing, commercial painting and floor coating. Our painting services include exterior staining, power washing and color consultation.
At Garrett Painting, we live by four company values: Integrity, reliability, quality and experience.
Integrity: We value honesty in every aspect of our business and expect it from each member of our team, and we believe good communication builds trust — the foundation of a solid relationship. You can expect integrity in each conversation and transaction with Garrett Painting.
Reliability: Our number one priority is to get your project done in the time frame you desire with minimal disruption to your personal or work environment. Garrett Painting will arrive on-time and ready to get to work.
Quality: We believe in quality over quantity. Our trained professionals offer high-level attention to detail and cleanliness, while being courteous and pleasant to work with. We use the best products and stand behind our work. We do the job right the first time.
Experience: With more than 20 years in business since our founding in 2000, you can trust that we will handle your project, big or small, with expertise, professionalism, and unmatched care. Because your home is our workspace, we carefully control the work environment to respect you and your property.
Along with these values, we pair our high-quality service with high-quality paints, such as those from Benjamin Moore and Sherwin-Williams. High-quality paints have more prime pigments, which provide an easier application, have greater durability and show better color retention. High-end paint allows for a long-lasting paint job, especially in high-traffic areas like entryways, kitchens and bathrooms.
With its increased durability, quality paint results in less peeling, cracking, scuffing, fingerprints, fading and chalking.
Quality paint not only provides beautiful color to your spaces, but it also protects against mildew and spoilage. Lower-quality paints do not contain as many binders (resins), which serve as a protectant.
Garrett Remodeling
Interested in a home remodel? Shane Garrett founded Garrett Remodeling as an extension to Garrett Painting. Customers can expect the same quality, craftsmanship and value for home remodeling that they have grown to trust from Garrett Painting. Our expert crew of remodelers and customer service professionals at Garrett Remodeling specialize in premium exterior and interior home remodeling. We proudly provide residential remodeling services to mid-Missouri, including Columbia, Jefferson City, Mexico, Lake Ozark and more.
Our customer service professionals make the entire painting process friendly and efficient from the initial phone call or website contact to the final walk-through.
While investing in a place as important as your home, you want someone you can trust to get the job done — and get it done right. Contact us today to set up a consultation or receive an estimate.
We look forward to helping you achieve your painting visions for 2023!